Doors Open Ontario is a province-wide celebration of community heritage sponsored by the Ontario Heritage Trust.  It is designed to create access, awareness and excitement about our heritage and the theme for Doors Open 2017 is "Our Identity".  Doors Open provides residents and visitors with a unique opportunity to explore and enjoy the sometimes hidden and always interesting places in Ontario's cities, towns, villages and countryside.
The Rideau Lakes Municipal Heritage Advisory Committee is preparing for Doors Open 2017.  As next year is Canada's 150th anniversary, we are endeavouring to make 2017 an outstanding celebration of not only Canada's history but also of the rich heritage, culture and identity of Rideau Lakes Township.
We have been researching and visiting prospective sites in our Township over the past few weeks to determine which sites best fit next year's theme and we are extending an invitation to the Portland Historical Society to be one of the participants in Rideau Lakes Doors Open 2017.  The date for our Doors Open next year is August 19 and 20, 2017 from 10 a.m. to 4:00 p.m. and it is our goal to highlight those places and spaces that reflect the diverse identity of our Township.  We sincerely hope you will accept our invitation to be a participant in Rideau Lakes Doors Open 2107 and there are several benefits that we hope you will consider.
Ontario Heritage Trust co-ordinates the province-wide program and provides community resource materials, colourful Doors Open property identification signs for each participating site and province-wide promotion and media relations (print, television and radio) for Doors Open 2017.  In addition the Trust provides an event page on the Doors Open Ontario website that features a full listing of participating sites, including a photo gallery and written description of the site's significance which in 2015 resulted in 158,000 visitors to the Doors Open Ontario website.  Each community/community cluster participating in Doors Open Ontario is also highlighted in the province-wide brochure that is produced by the Trust and in 2016 approximately 1.3 million printed units were distributed throughout Ontario, Canada and abroad.
In addition, participating sites will be detailed in a brochure produced and distributed by the Rideau Lakes Municipal Heritage Advisory Committee as well as accessing local media including social media to promote the 2017 event.  While admission to each site is to be free there are no restrictions with regard to the sale of goods and services. We are hopeful that business and community groups surrounding the participating sites will take the opportunity to capture the attention of visitors to Rideau Lakes Doors Open 2017 so that we can showcase our Township and give residents and visitors "An Experience to Remember"!
Certainly Portland figures prominently in the history of Rideau Lakes and since the theme is "Our Identity", one of the thoughts was the rich boating history in and around Portland and how we might highlight that history.  I would welcome an opportunity, at your convenience, to meet with you and your Committee to further discuss how best to involve Portland in Doors Open 2017.  Please don't hesitate to contact me via e-mail or my cell 613-207-0877 so that we may set something up.
Portland on the Rideau Historical Society has agreed to participate in Rideau Lakes Doors Open 2017 on August 19th and 20th, 2017.  Your group had some great ideas on how to highlight Portland and, from a Doors Open 2017 perspective, you are willing to focus attention on the rich boating history that surrounds Portland and the Big Rideau.  I understand that there are other elements that you may want to introduce to the event and we certainly encourage community and business groups to take the opportunity to capitalize on having Doors Open 2017 visitors to Portland.
I will need a digital image that best represents what you are planning for Doors Open 2017 and a 50 word synopsis of Portland's participation in the event by November 30th.  Those will be incorporated into the Ontario Doors Open 2017 website and then also used in the Rideau Lakes Doors Open 2017 brochure.
1. Synopsis of Portland's Participation
Portland, Gem of the Rideau, is displaying vintage boats at it's breathtaking Hanna Park during Doors Open. Once a hub for boat building on the Rideau, Portland on the Rideau Historical Society (PRHS) is proudly showcasing boats of the era with village wagon tours, lake boat tours and refreshments in period costume.
2. Candidate Images related to Boats and Boat-building
The images below represent excellent examples of boats build by Dowcett Boats and Wykes Boats:  We must choose one image to present in the Doors Open 2017 brochure.  In the comments section, please indicate your preference for the photo, as well as comments on the synopsis paragraph above.
This is one of the oldest Dowsett motor skiffs known to exist. Originally built by WJ Dowsett & Sons of Portland, Ontario. Found and completely restored in the early 1990's. New stems, new ribs, nearly all original planking, decks, seats saved and restored. Original St Lawrence twin cylinder engine, made in Brockville, ON, restored.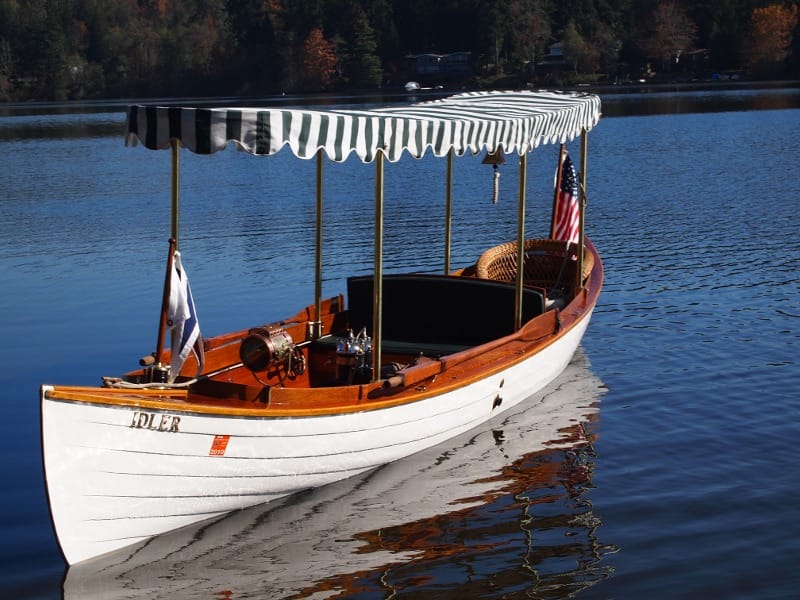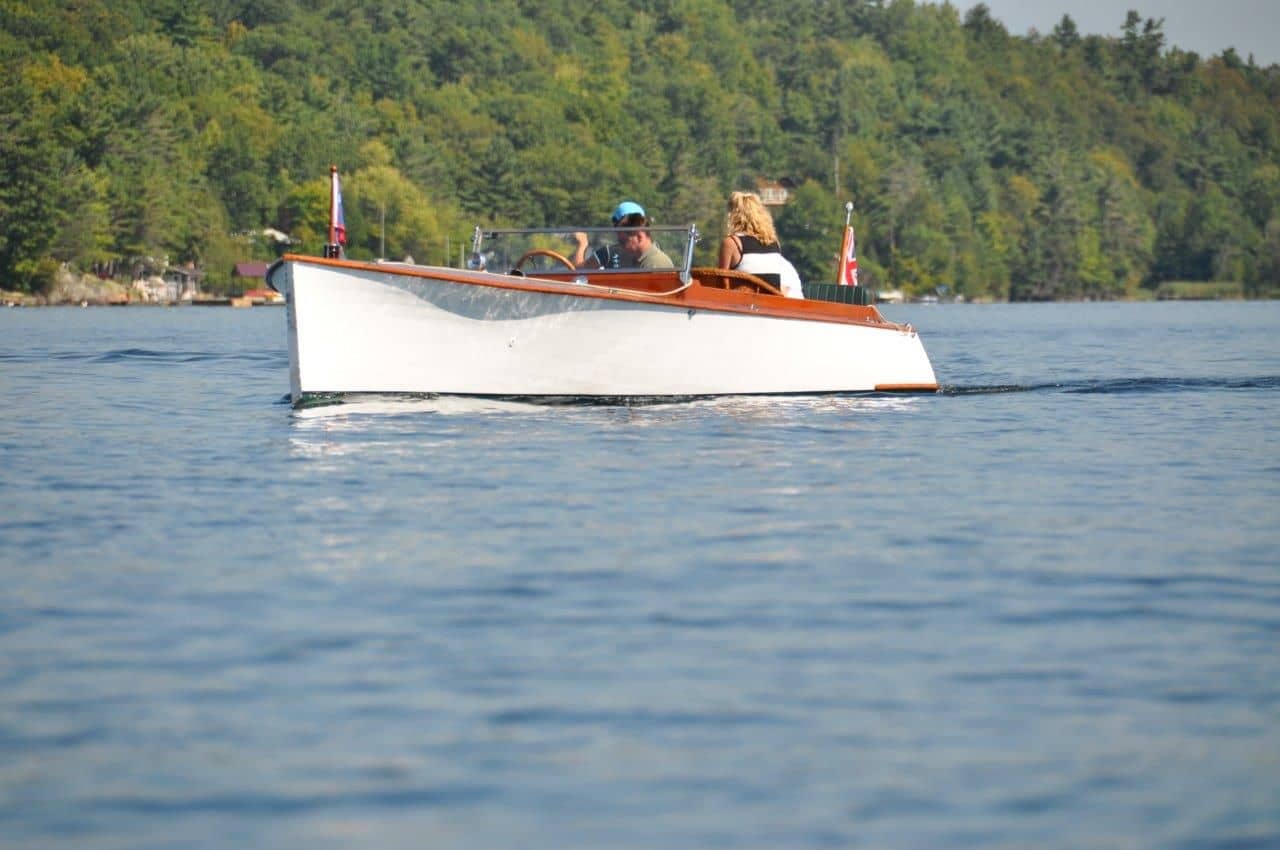 "One of 3" is a very rare boat.  She is one of fifteen boat of this design built by Frank Wykes of Wykes Boat Works of Harlem, Ontario in the late 1960s. Built in 1968 this boat is one of only three known to currently exist, she is a beautiful clinker built boat with a magnificent bow flare, a rakish windshield and lounge seating. Powered by a 1989 Johnson 90 HP engine
information.